Brevard County Requiring ECGs for Student-Athletes
A couple of months ago we did a blog addressing the need for young student-athletes to have sports physicals done prior to participating in sports in order to ensure they were healthy, particularly their hearts.  We want to do a follow up to that blog because it was just announced through the Brevard Public Schools Headlines, an email sent out to parents, mandatory heart screenings for winter sports have begun.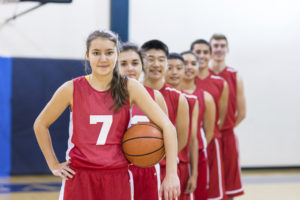 ECGs Can Save Lives
Local NBC affiliate WESH, Channel 2 also did a story covering the decision made by Brevard Public Schools to take the health of their student-athletes very seriously by requiring these heart screenings.  Approximately two years ago a Brevard County middle school athlete, who played youth football, collapsed between classes at school and died.  WESH also reported that a Viera High School lacrosse player collapsed earlier this year while running laps during JROTC.  Thankfully, he survived.
We are thrilled to report that these ECGs have already possibly saved the life of one student, a twelve-year-old who was unaware of an extra electrical pathway in his heart.  He has since had surgery.  Thus far in Brevard County, seven children have been found to have life-threatening heart conditions with five of them having had surgery since finding out that they had these heart conditions.  That is only since June!  More children are yet to be screened, but lives are already being saved.
Cardiac Arrest in Kids and Teens
Brevard County Public Schools have partnered with an organization called Who We Play For.  This organization was founded because of the death of a Brevard County athlete from Cocoa Beach, Rafe Maccarone, who passed away in 2007 from cardiac arrest during soccer warm-ups.  In partnership with this organization, BPS is able to offer the ECGs for only twenty dollars.
According to the American Heart Association, more than 7,000 kids suffer cardiac arrests each year during everyday life, not hospitalizations.  They have found that in 2016, less than 14% of those treated by emergency medical services survived.  This low survival rate serves to impress upon us the importance of getting children screened to find these potential heart conditions PRIOR to a tragedy occurring.  In many cases, these conditions are treatable.
Weight Loss Programs Can Promote Healthy Lifestyles
At Advanced Surgical and Weight Loss Institute we are pleased that these new screenings are in place.  As adults, it is our responsibility to help our children get healthy and maintain health.  If you or your children are overweight this will greatly increase the chances of heart issues.  We specialize in obesity and weight loss surgeries at our Merritt Island office.  If obesity is an issue for you, then please contact us.  We desire to help you and your family to achieve optimal health.  We specialize in lap band, gastric bypass, and gastric sleeve.  We serve Melbourne and Merritt Island, FL and look forward to working with you!