At Advanced Surgical and Weight Loss Institute we know that good health and weight loss are things that can only be truly accomplished and maintained when we take care of our overall health, which must include healthy eating and regular exercise.  Healthy eating is a little easier to achieve when you live in our beautiful Brevard County area and have access to our awesome local farmers' markets.
Fresh Farm-Grown Produce
Farmers have always sold their crops for as far back as we can remember.  While some of us may have a small or even large home garden, farmers grow on a larger scale providing not only food for their family but income as they share their bounty by selling it to others.  And, aren't we thankful that they do?  Not all of us would have access to such yummy, healthy, and fresh from the field produce without our farmers' markets.  After all, along our beautiful coastline are many residents who live in condos.  Exactly where are they supposed to grow their garden?  Additionally, many of our area residents are getting older, and while they might love to have a garden of their own, they may no longer be capable of the physical labor that it requires.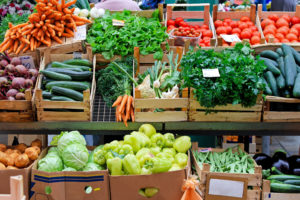 Florida, of course, is not the only state to benefit from these wonderful outdoor markets.  And, the United States is not the only country to utilize this type of field to table market.  In fact, the citizens of most other countries don't shop in bulk as we do in the United States.  They tend to shop at fresh, local markets either daily or multiple times per week instead of only a couple of trips per month to a major supermarket.  This ensures the freshness of the food that they are eating while boosting the local economy.  It is truly a win-win situation for all involved.
Farmers' Markets in Brevard County
You may have driven past them without stopping, but we encourage you to check out your local farmers' market for great items like fruits, vegetables, honey, and homemade dips and spreads.  In the Melbourne area, there are several small farmers' markets, but the main one that you can check out is the Downtown Melbourne Farmers' Market on the first and third Saturdays from 10 am to 3 pm at Riverview Park on Irwin Street.  In Viera, you will find the Viera Park Market from 2 pm to dusk on the first and third Friday on Judge Fran Jamison Way.  If you don't know of one in your area, try calling your local city hall or parks and recreation department, as they may be able to tell you where to find one in your area.
Weight Loss Programs in Melbourne, FL
We know that fighting a weight loss battle is difficult, and we don't want you to fight it alone.  Call Dr. Velarde today, here at Advanced Surgical and Weight Loss Institute, to discuss your weight loss options.  Sometimes, it takes a big step like weight loss surgery to achieve the rapid weight loss you desire.  Dr. Velarde uses the best and most recently developed weight loss program techniques to make your surgery as minimally invasive as possible which, in turn, makes your recovery easier and faster.  So, please call us today for the support that you have been looking for and need.  We are on your side!