Many people struggling with weight may be deeply longing for help to lose weight and get healthy.  Everyone has their own reasons for delaying the process.  For some, they don't feel like they have the time to dedicate to working out or cooking healthy.  For some, they feel too tired to exercise.  Others may simply feel overwhelmed at the process and discipline it will take to undo the years of poor eating and lack of exercise.  We certainly acknowledge that some people's weight issues stem from health conditions and are not due to any lack of effort on their part.  Still, many others may not be pursuing their weight loss dreams because of the cost of weight loss surgery.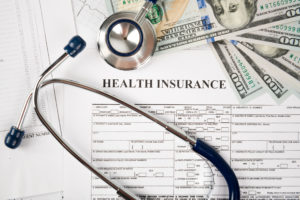 For those who are morbidly obese or obese enough to cause health issues such as high blood pressure and diabetes, weight loss isn't just a desire, but it has become a necessity.  In such cases, it is time to see your primary care physician.  Believe it or not, many insurance plans will cover weight loss surgery.  Maybe you have heard they won't cover it because it is elective or aesthetic.  The medical field does consider weight loss surgery a medically necessary procedure in many instances.  Because of this, many insurance plans do, in fact, cover the surgery!
Maybe this is news to you and all this time you thought that you had to save thousands of dollars to pay for your needed surgery.  We hope this is exciting news to you and brings you a sense of hope.  Your first step is to go to your family physician who will assess your weight and overall health.  He or she can then give you a referral to a specialist.  If the doctors feel that weight loss surgery is medically necessary to help you lose the proper amount of weight and get you healthy, then they will put in the necessary request to your insurance who will then approve or deny the request.
Your weight loss (bariatric) surgeon will probably require you to lose a certain amount of weight prior to your surgery.  You might be wondering why since you are obviously seeing your doctor with the purpose of losing weight through the surgery.  The doctor wants to know that you truly have the desire and drive to go through the weight loss journey.  While the procedures are often less invasive than they used to be, they are still major surgeries.  After the surgery, you will be advised as to a specific way to eat to ensure that the surgery is successful and produces the best results.  Keep in mind, these surgeries are not a magic pill that allows you to lose weight while continuing an unhealthy lifestyle.  They are a jumpstart to help you get healthy and live well.  If you follow your doctor's instructions, you WILL lose weight rapidly.
If you believe you are ready for the journey, then contact Dr. Diego Velarde today at Advanced Surgical and Weight Loss Institute.  Dr. Velarde's office is located in Merritt Island where he serves people from throughout the area, such as Melbourne, Viera, and the beachside area.  He specializes in rapid weight loss surgeries such as lap band, gastric bypass, and gastric balloon.  He is trained in the DaVinci robotic surgery method to make the surgery as minimally invasive as possible.  If you are ready to get healthy and do your part, call Dr. Velarde today because he is ready to help you!