Bariatric surgery is our specialty here at Advanced Surgical and Weight Loss Institute. We have been assisting the residents of Brevard County under the helm of Dr. Velarde, a fellowship-trained bariatric specialist with 10 years of experience. It is our mission to see our clients achieve long term successful weight loss via weight loss surgery. We specialize in gastric bypass, lap band, and gastric sleeve procedures and work with our patients from the moment they reach out searching for help on their weight loss journey.
Research Weight Loss Programs
Weight loss is something that many of us desire at some point in our lives and nothing can be more truthful for obese patients. Obesity statistics from 2016 show that over one-third of adults in the United States have a BMI, body mass index, of 30 or more making them obese. This statistic is shocking in and of itself but does not account for children and youth. At this time, approximately seventeen percent of this population is considered obese. It is also true that many in this population are avidly seeking weight loss. After a long succession of weight loss failures, we often see patients who are truly at the end of their ropes. Bariatric surgery has become their last chance to feel successful and live the life they dream of. However, according to Bariatric Surgery Source close to fifty percent of bariatric surgery patients gain weight after the two-year mark. After ten years, the weight gain for those patients is still the same.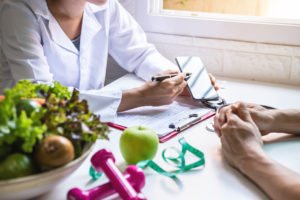 But it does not have to be! Patients who undergo bariatric surgery do not have to become a statistic. There are things that can be done to keep the weight loss on track and lasting. Let's see what those things are.
Have Support
It is important to recognize that bariatric surgery will make a significant impact on your life. Have a support system in place that will be there to guide and assist you when things get challenging. Seek out the help of professionals such as doctors and mental health professionals and keep supportive friends and family by your side. You do not have to walk this road alone.
Remember Your Past
Those bariatric patients who have had alcohol and/or substance abuse problems in the past are susceptible to relapse after surgery. Food may no longer bring the joy it once did post-surgery and those who were addicted before could turn back to their old ways.
If you have a history of substance abuse seek out appropriate care to ensure success. This can mean finding a support group or enlisting professional help and there is no shame in this!
Establish New Habits
After bariatric surgery, your relationship with food will change. Due to the nature of your specific surgery, your body will not be able to hold as much as before. If you also have a food addiction, this can be a challenge because the behavior that once brought you peace is no longer available. However, this does not have to derail your weight loss.
From this point on, you can change your relationship with food. Include fresh and whole foods into your diet, foods that are dense in nutrients and will serve your entire body well. If you can shift your perspective on food, your chances of success will go up.