Robotic Surgery: What You Need To Know
---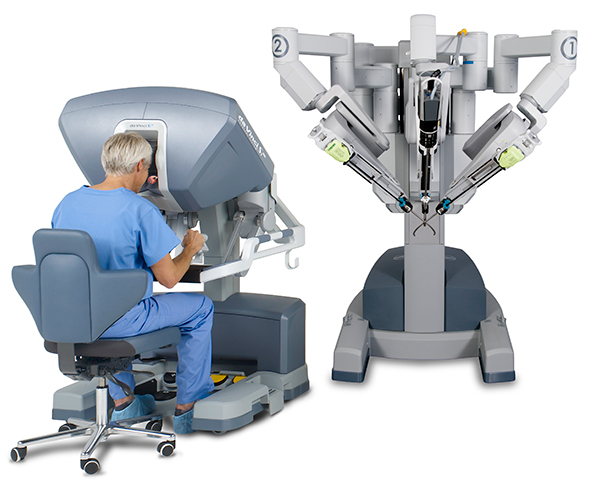 Robotic surgery refers to a type of surgery where surgical procedures are done using miniaturized instruments and cameras.
These instruments are mounted on "robotic arms", and controlled by the surgeon through the ergonomically designed da Vinci console.
Its worth noting that our Melbourne Fl robotic surgery uses da Vinci surgery equipment, a sophisticated robotic platform made by the famous American company Intuitive Surgical.
These equipment feature the latest robotic and computer technologies, giving no room for technical errors and breakdowns during operation.
The da Vinci system features three to five robotic arms, one holds a thin tube with a high definition camera at its end, while the other arms consist of instruments that are 100% controlled by the surgeon.
Procedure
The surgeon seats near the user console during the operation, and does all the activities from the console. Images of the patient's body are captured by the high definition micro camera, and sent to the console where the surgeon views them using a 3D monitor.
Then, two master control devices are used to precisely maneuver the robotic arms in any direction. Every movement made by the surgeon through the master controls is precisely replicated by the robotic arms.
The surgeon thus receives clear, detailed and sharp images of the area being operated, images that the surgeon may not clearly see with the naked eye. The robotic arms are able to make even the slightest movements, of even a quarter an inch.
The level of flexibility is also greatly increased, as these arms can rotate and move in any direction, 360 degrees.
Advantages of Robotic Surgery
In recent years, robotic surgery has gained increased popularity in the health sector. Advantages and benefits of robotic surgery have been seen to outnumber those of open surgery. They include:
Faster recovery time. This means the patient will take less time in hospital, thus saving on hospital bills
Minimally invasive techniques. Through robotic surgery, incisions made are smaller compared to open surgery. This translates to smaller scars, less blood loss and improved cosmetic look after surgery.
Safer procedure. The surgeon can use a computer simulated practice session before performing the actual procedure.
High accuracy levels. Incisions made are smaller and more accurate, chances of errors are minimal.
Less anesthesia is used
Lower risk of infection
Applications of robotic surgery
Due to its high level of accuracy and minimal invasive techniques, robotic surgery can be applied in the following areas neurosurgical procedures. For a long time, neurosurgical procedures have been a nightmare to surgeons applying open surgery procedures, since even the slightest errors can result to brain damage.
Robotic surgery has come a long way to assist in these procedures, since human error has greatly been reduced. Neurosurgical procedures include biopsies, neuroendoscopy, and deep brain stimulation to name a few.
Colon and Rectal Surgery
Cardiology and electrophysiology
Cardiothoracic surgery
Gynecology
Gastrointestinal surgery
Advanced Surgical and Weight Loss Institute has for a long time been known for offering less invasive surgical procedures, guided by the dedicated and advanced da Vinci equipment.
Your leading surgeon Dr. Diego Velarde, together with his team are dedicated to take robotic surgery to the next level. He has years of knowledge and hands-on experience, and is affiliated with many hospitals in Merritt Island, Florida.