Our schools fulfill a lot of needs for our children throughout the day.  They are taught academic lessons and character lessons, bandaged by the nurse when needed, and even fed.  Besides the hot lunch program that is available for students, schools also offer reduced prices and free lunches for children who qualify based on their parents' income.  Some schools even offer free breakfast to all students!  This can be a tremendous benefit for low-income families, as well as for parents who need to be at work at the same time their children start school.  They can drop them off prior to school, their kids get a healthy breakfast, and they make it to work on time.  It is a win-win situation for everyone involved.
When it comes to hot lunch, there is no set standard across every district or in every state.  Some districts really focus on offering only healthy items to kids at lunchtime, while others are still behind the curve.  Regardless, schools have come a LONG way over the years truly making an effort to offer healthier choices to children.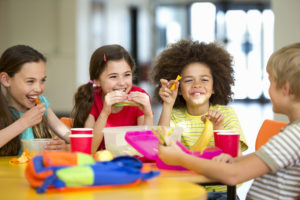 There are still a couple of issues that exist that can make you question if your child should bring his/her own lunch to school that was made at home or purchase a hot lunch from the school cafeteria.  Many schools allow children to make "a la carte" choices to add to their healthy meal provided by the school.  When this happens, an otherwise healthy meal of pasta, salad, and fruit can suddenly be sabotaged by the addition of cookies and chips.  If the child then chooses to only eat the cookies and chips, the value of the healthy offering is completely gone.  If the child eats all of it, they are still sabotaging the healthy impact with unhealthy foods and possibly overeating which can eventually lead to obesity if done on a regular basis.
So, ultimately the choice is up to you.  You may want to instruct your child that they are not allowed to buy "a la carte" items that are unhealthy.  Some schools will allow you to specify that your child can only purchase lunch as the "plated lunch" provided by the school in which the child is not given choices, but receives a plate of healthy food with no "a la carte" offerings allowed.  Or, you may choose to send your child with a lunch from home.
Many schools now allow children to bring a snack with them that is eaten during the morning classwork prior to lunch.  This snack is provided by the parent.  Here is an additional opportunity to ensure your child is eating healthy since you control what snack he/she brings.  Insulated lunch bags can be bought for the same price or less than a regular lunch box.  You can then buy a little ice pack that fits in the lunchbox.  These are only a dollar or two.  So, even if your child is buying lunch, you can use this insulated lunch pack to send a healthy snack like yogurt, fruit, or a ready-made protein pack which usually consist of items like meat, cheese, and nuts.
At Advanced Surgical and Weight Loss Institute we feel that education regarding healthy eating is important.  When children are taught to eat properly from a young age, they are less likely to become obese when they are adults.  If you are an obese adult in search of help to regain your health, then please give us a call.  Dr. Diego Velarde, located in Merritt Island, specializes in minimally-invasive weight loss surgery including bariatric surgery, lap band surgery, and rapid weight loss programs in Melbourne, FL. We are here and ready to help you!