With a variety of weight loss surgeries to choose from, you may wonder what will happen if you choose one that just doesn't really seem to work for you.  There are a couple of factors at play here.  It's important to remember that even with bariatric surgery, weight loss takes work.  While surgery is a major step forward in your weight loss journey, in and of itself, it is not enough.
We have discussed before how your surgeon will require that you show effort prior to performing surgery.  He or she will want you to begin the weight loss program with an exercise regimen.  Since most weight loss candidates are technically obese and may not be the most agile, this may start with something as simple as walking around the block, but it still shows effort and desire on your part.  Additionally, your surgeon will usually require that you lose some weight on your own to show that you have the discipline, drive, and willpower to put forth the necessary effort.  This may be an "assignment" of losing approximately 20 pounds on your own through exercise and diet changes.  Simple diet changes can actually bring about this weight loss much faster than you may expect.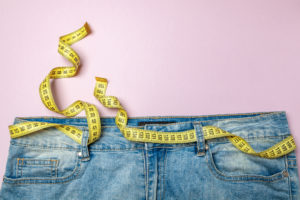 So, what happens if you start your exercise regimen, lose your required twenty pounds, get your surgery, then see very little progress?  Understandably, this could be very discouraging.  The first thing you need to do is meet with your bariatric surgeon.  Don't panic and don't give up on your weight loss goals.  You and your surgeon now need to decide what the best course of action is for you to take.  Now, we don't mean you should lose one hundred pounds in the first month!  We are saying that you are seeing VERY little progress even with effort.
Though the idea of a second surgery may not appeal to you, you and your surgeon may decide that the surgery you initially chose just wasn't the best fit for you for the amount of weight you need to lose, for your expectations, and for your individual body.  This does happen sometimes, and it's ok when it does.  Your surgeon wants the best for you and doesn't want to see you give up on your weight loss goals.  If you have the drive, desire, and discipline, then your weight loss WILL happen, even if it takes a second, different surgery.
If you have met with Dr. Diego Velarde of Advanced Surgical and Weight Loss Institute in the past or if you have decided that you would like to consult with a new bariatric surgeon, then we encourage you to give us a call.  Dr. Velarde uses the least invasive surgical techniques to perform bariatric surgery, such as the da Vinci robotic method.  Our office is located in Merritt Island.  Whether it's your first or a necessary second bariatric surgery, Dr. Velarde is of the utmost professionalism and cares deeply about his patients and their well-being. Give us a call today to schedule your appointment!